THE BRITISH SIEGE OF HAVANNAH [Havana] Cuba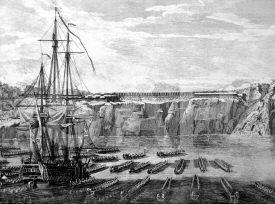 The British Siege of Havannah [Havana], Cuba. A very rare collection of engravings from c 1763. the picture is from a work by Dominic Serres a French-born painter. Here is plate 9 of the set of 12 and it depicts the British forces taking the Moro [Morro] castle by storm on 30th July 1762.the vessel in the picture is HMS Alcide which is accompanied by a large number of flat boats.
With thanks to an anonymous private collector for the loan of the work.