A romantic past Four hundred years ago when adventurers arrived from Europe they were following legends in search of a golden kingdom and its ruler, El Dorado - 'the golden man'.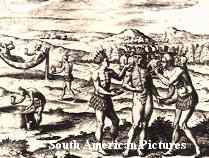 The magic that makes modern Suriname is undiminished. Its highways are the sea and countless rivers. Behind a coastal strip of lowland facing the Atlantic an untamed wilderness stretches southward to a mountainous frontier with Brasil and the Amazon. The majority of just over 400,000 inhabitants live near the coast and have a remarkable history. The first settlers were English and arrived in 1650 backed by Lord Willoughby of Parham, a small village in Suffolk, a county of East Anglia in England.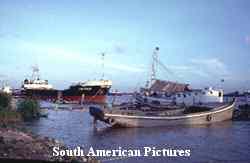 A quick deal 'Willoughbyland' as it was known for a short while was traded by the English for the Dutch holding of New Amsterdam in North America. Later that piece of land became New York. Some deal ! The Dutch held on to this corner of South America until 1975 - the only breaks were short as French and then British settlers tried to take-over. The Dutch influence is seen in many of the grand streets of Paramaribo the capital and sometimes in the language- tho' many others are spoken.
During the Dutch ownership sugar plantation owners brought black slaves from their homes in Africa, Asians from India speaking their own languages, Chinese, Javanese, Java (Jawa) part of the country that is now Indonesia. Jewish people arrived from Europe and other from the Portuguese island of Madeira. Traders came from the Mediterranean countries and suddenly a new nation was emerging. Independence from The Netherlands was achieved in 1975 and Suriname was born.
Suriname is a land of many languages, many different religions and a variety of food styles unequalled in any other South American country
Advertisments, the street and shop signs are clues to the original homes of many Surinamers
Some of the longtime residents of Suriname are the families of African slaves who escaped from Dutch plantation owners three hundred years ago. They are known locally as 'Bush Negroes' , though the modern use of 'Bush Blacks ' is beginning to be accepted.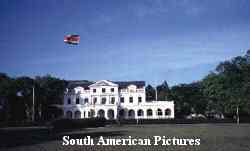 These people live in virtual isolation often by rivers in the interior.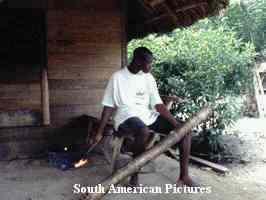 Over the years the 'Bush Negroes' have adopted some of the ways of the forest dwelling Native American tribes they encountered in their flight from the Dutch but mostly they have retained their African traditions, especially religion. In recent years they have played an strategic rôle in the Suriname's emergence as an independent nation.