DONALD PILTON - Doctor, medical officer and cook - some reflections.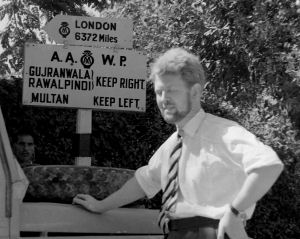 Don Pilton heads for an official reception in in Lahore, Pakistan , October 8th 1960- the sign says - London 6372 miles. They had left Bristol on August 31st
When I heard of the expedition driving round the world in 1960 it was the sort of thing I had dreamed of so I rushed around and explained to them the danger of rabies, scorpion stings, typhoid, cholera, etc etc and offered my services which were instantly accepted. I spent the next few months packing a large medical kit in a steel box with wound dressings, plaster of Paris for fractures, many antibiotics and analgesics including morphine and dental equipment for tooth extraction. All the kit was used on the journey. I also took a week's course in dental extraction and bought the Ships Doctors Medical Handbook which contained simple advice on emergency dentistry. All of us were checked by Dr.Alan Rogers our medical adviser who had been with the Commonwealth Trans Antarctic Expedition 0f 1955-58 and who gave me the right kind of encouragement for our journey.
We had a wonderful send off by the Lord Mayor of Bristol and felt very grand as we left the city with a police escort. The first incident was camping in Turkey when we all heard something moving around our camp and on investigation it proved to be an extremely large spider -possibly a tarantula. I have never seen six men break camp and pack their vehicles so quickly.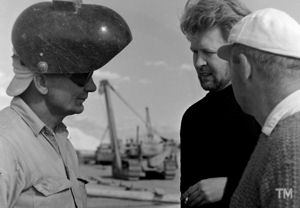 Don Pilton centre-right with oil- workers near Sharud, Iran September 22nd 1960
The next incident I remember vividly was in Iran when we stopped at an American oil pipeline and drilling area. One of the workmen had severely injured his arm in the fan of a big generator. I repaired, stitched and dressed his wounds. I was offered a very highly paid job as the medical officer which I of course declined. We dined on king prawns and steak that evening.
In eastern Iran I went out in the morning from the camp and became surrounded by a small pack of large wolves but managed to return to camp safely. Then it was through Afghanistan complete with Biblical scenes and down the Khyber Pass where the next stop was Amritsar and the Golden Temple where the priests were very hospitable and offered us a room. Then on to the small Princely State of Aundh on the Deccan where within minutes of our arrival a large American car arrived to take me to the Palace where the Raja was ill. On arrival at the Palace the Raja's army was there complete with armed elephants and a band which played Rule Britannia as I went to attend the Raja. I was invited to stay at his Palace in Poona (Pune) which I did. Back in Aundh I treated a young man who had been stung by a scorpion and was screaming. I gave him morphine and he soon settled. At the time there were outbreaks of cholera in many parts of India and a large smallpox epidemic which killed thousands. I was feeling safe because my arm had been scratched in England. [Editorial note. Smallpox was a disease feared worldwide for centuries and only finally accepted as eradicated in 1980. The Expedition team like all travellers received a 'scratch' of vaccine on the arm before leaving Bristol]
I was summoned to dine by the Maharaja of Baroda which was quite memorable. On the way south we stopped at Oooticamund [now Udhagamandalam] in the Nilgiri Hills, the home of a British tea planter. I diagnosed his wife's fractured scaphoid and plastered it. [Ed: a small bone in the wrist] Then for the second time within a three months I was offered a highly paid job running four hospitals which were on the plantation. From the refreshingly cool climate of 'Ooti' we continued south to Sri Lanka where the giant lizards of more than 2 metres came as a surprise to us.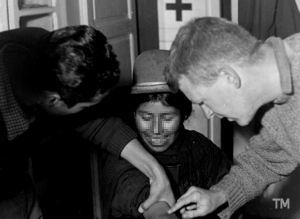 Don working with a local medical doctor in one of the Bolivian 'community centres' visited by the Expedition
Then we travelled by sea to Peru and up to the Altiplano and La Paz, a very beautiful city at 12,000 feet. Being fit we had no problems with altitude sickness. There was plenty of ice and snow on the Altiplano and we slept outside in our double sleeping bags with our Morland sheepskin jackets, gloves and hat. Then down to the Amazon jungle where we approached a small village comprised of mud huts with roofs made of giant palm leaves. A man emerged in his underpants and I was thinking in terms of head shrinkers when he uttered the memorable words 'would you like a cup of tea?' Medically I noticed many people there had large goitres of the thyroid and some of the children appeared to be cretins due to lack of iodine. [Editor's note: cretin= medical term for stunted physical and mental growth due to iodine deficiency - all signs of this problem have disappeared with the economic rise of the Bolivian lowlands]
One final thought, there we were, six young men living very closely together for more than one year and I had been expecting friction and personal difficulties. Fortunately nothing like that arose and we all stayed well during an extremely exciting journey. And thankfully nobody needed any dental treatment!
[Editorial comment - This account covers 1961 when snow and ice on the Altiplano and nearby mountains was a common sight. In 2009 when the memoir was written snow, ice and water were rare due to climate change]
ROGER TUTT - PERU, Ravine approaching: Whoops, no brakes! January 1961
We quickly grew very fond of our two Austin Gypsies. They performed impressively in some very testing conditions, and their unique suspension system gave a comfortable ride on the corrugated, un-metalled surfaces with which we
were to become very familiar. But the design was new and there were teething troubles, some quite disconcerting.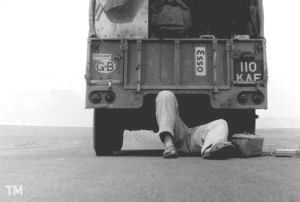 Mark was a brilliant mechanic who kept the Gipsies working in the bleakest moments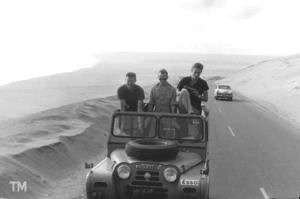 On the road again and heading south along the PanAmerican Highway in desert beside the Pacific. Left to right - Malcolm, Peter and Roger
There was a particular problem with the front stub axles. You had only the briefest warning of stub axle failure. First, the brake hydraulics would start to go, and then a wheel would fly off!
The road south from Lima runs along the coast through the Atacama desert . As I recall, the road frequently dropped steeply to narrow, single-track bridges of some 50 metres or so in length to cross deep ravines coming in from the sea, before climbing steeply again on the other side of the bridge. (Photo?) There were, I remember , fairly substantial ditches on each side of the carriageway.
And, of course, as I started to head down to one such bridge, those unmistakable signs of stub-axle failure appeared. "No brakes" I must have muttered to my companions, through clenched teeth, as I tried to guess whether it would be better to attempt to crash the heavily-loaded vehicle into the ditch, and hope it would stop before reaching the bridge, or to attempt to steer straight across the bridge at an uncomfortably fast speed and just pray that the wheel stayed on until we reached the other side.
I think we'd discovered that pumping the brakes in these circumstances simply caused the wheel to depart that much sooner!
So, despite the reckless speed, I kept my foot away from the brake pedal and concentrated on steering across that very narrow bridge.
As we reached the other side, and the road started to climb, the wheel shot off ahead of us, and I managed to put the Gypsy into the ditch, hoping that we wouldn't roll backwards towards that deep ravine. For a while the Atacama air was blue - and then Mark calmly worked mechanical miracles with a spare stub-axle at the roadside - once again.
A few weeks later in La Paz we received the first re-designed stub-axles from Austin.
ROGER TUTT - Low-flying over Castro's Cuba, July 1961
In June and July 1961 we drove from Bolivia via Peru and Ecuador to the north coast of Colombia. We'd been aware for some time that our plan to use a new section of the Pan-American Highway to bridge the Darien Gap in Panama was no longer realistic. The new section hadn't been started, let alone finished (and it still awaits construction now.)
Our fall-back plan was to book a freighter for the short sea journey around the Darien Gap. But, once in Barranquilla, we quickly discovered that our freighter was not about to go anywhere for some time. With our financial resources already depleted, we seemed to have hit a major problem.
I can no longer remember how I came to fall into conversation with a Colombian in a small bar in Barranquilla early one evening. He turned out to be a pilot with his own airfreight operation. He was flying without cargo to Miami early next morning to collect an aero engine.
I explained our predicament. He had no doubt that his plane could carry two heavily loaded vehicles. I confessed that we could only pay the £200 budgeted for the short sea trip. As I recall, he settled for US$500, gave me instructions to find the airstrip and insisted that we be there "by first light".
None of the Expedition team wanted to miss driving through Central America and Mexico as planned. But all agreed that we really had no option but to take this opportunity.