Nasca - sometimes as Nazca
A small town in a fertile valley 400 kms south of Lima the capital. Outside Peru the name is often given as Nazca. About 1500 years ago the valley was the home to a people who may have known themselves as Nasca and who possessed a flourishing, distinctive culture. The pottery and hand weaving of the time is especially beautiful.
Desert Markings
The place is best known for the countless markings covering the surrounding desert. The markings were made by moving the redish surface stones and exposing the yellow underlying clay. Hundreds of straight lines or paths some many kilometres long cross the landscape. They are mixed with more elaborate clearings some rectangular others trapezoidal. Designs of birds, mammals, spiders, spirals and others are spread about across an area of roughly 250 sq kms and can be appreciated only from the air.
Maria Reiche
Back in the 1940's decoding the markings and their history was an obession for Maria Reiche a German teacher and recluse. Maria published several pamphlets and small books before she died in 1995. Tony Morrison Mark Howell and Allan Reditt met her on the desert in 1963 and made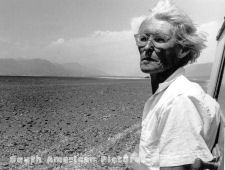 the first television film to show her extraordinary dedication usually alone in the desert to find an answer to the puzzle. The film was a Nonesuch Expeditions production for the BBC. Over the next 31 years Tony wrote two books and made more television films including the last interview with Maria - filmed in Nasca in 1994 with Dutch producer Roel Oostra.
Photo: Marion Morrison, 1969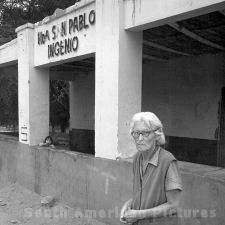 Maria Reiche outside the storehouse she used as a base for almost 30 years . It is now the Maria Reiche Museum. Photo: Tony Morrison 1976
For many of the years spent studying the Nasca markings / geoglyphs Maria Reiche made her base at an old storehouse beside the road in the valley of the Ingenio river. The storehouse belonged to the Hacienda San Pablo then owned by three Englishmen - more of the story is in The Mystery of the Nasca Lines, by Tony Morrison and published 1988 in English, French and German editions. Tony's earlier book Pathways to the Gods containing the widely acclaimed archaeological and historical solution to the mystery was first published in 1978. The book incorporated the astronomical work of the late Gerald S.Hawkins who studied the line and geometric markings in 1968.The book was published in many editions in the United Kingdom, USA and Peru.
More pictures of Maria Reiche and the desert markings are on the South American Pictures website - the links are on the left.