Since 1961 Tony Morrison has travelled to Nasca 27 times and made television films, written books and given lectures including two at the Royal Geographical Society, London
TV Films
BBC Adventure 1963. Mystery on The Desert Filmed by Tony Morrison and Mark Howell [sound recordist] - Production Company: Nonesuch Expeditions.
This was the first film to present the desert mystery and Maria Reiche to the world. The commentary was written by archaeologist Jacquetta Hawkes and read by Patrick Wymark. The film was considered as an entrant for the Trento Film Festival in 1964
It was from making this film that Tony's interest in the mysterious markings grew throughout the 1970's 80's and has lasted to the present day. Mark's recording on 1/4 inch tape of Maria Reiche's theories is the earliest known.
BBC Chronicle 1969. Magazine edition Professor Gerald Hawkins with a computer explodes the Nasca myth. Directed by Julia Cave, Producer Paul Johnstone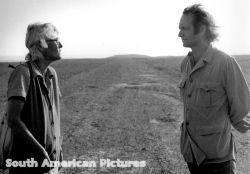 Maria Reiche and Tony Morrison from Pathways to the Gods,1978
BBC Chronicle 1978. [with Bavarian Television / Bayerischer Rundfunk] Pathways to the Gods Presented by Tony Morrison, Directed by Ray Sutcliffe , Producer Paul Johnstone
1986 an interview in a Channel 4 documentary Mysteries of Peru The Mystery of the Nasca Lines Directed by Peter Spry-Leverton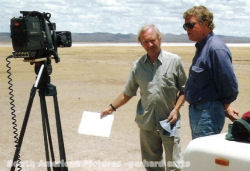 Tony Morrison and Roel Oostra in the desert of Carangas at 3,900m in the Bolivian Andes mountains /photo Gerhard Aarts
Dutch and German television 1994 - series History's Mysteries, 1994 Pathways to the Gods a remake. Produced by Roel Oostra and presented by Tony Morrison. This film included the last television interview with Maria Reiche.
Books
Pathways to the Gods - The Mystery of the Andes Lines including the work of by Gerald Hawkins 1978 - Published by Michael Russell and Harper and Row, NY - a Nonesuch Expeditions production. This is the groundbreaking work to provide the answer to why, how and when were the mysterious markings made. Also published in paperbacks, book club editions and a special edition in Peru.
Mystery of the Nasca Lines 1988, Foreword by Maria Reiche, A short accopunt of the various theories and Maria Reiche's search for an answer to the mystery. The centre piece is a collection of photos, largely aerial of the desert markings. Published by Nonesuch Expeditions
plus contributions to many more books and magazines
The Pathways to the Gods project took almost two years and was funded by publishing and television. It developed the most plausible solution to the many questions about the desert markings. The full story of this project from its conception through the initial funding and the research will be on a separate page - see the menu on the left.
---
The text and most of the images are © Copyright
For any commercial use please contact

| | | |
| --- | --- | --- |
| THE NONESUCH - FLOWER OF BRISTOL | | AN EMBLEM FOR ENTERPRISE |