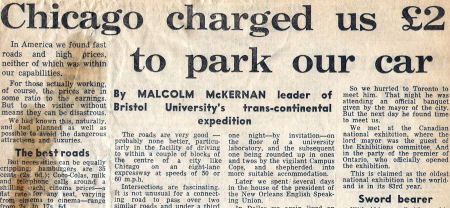 In America we found fast roads and high prices, neither of which was within our capabilities.

For those actually working, of course, the prices are in some ratio to the earnings. But to the visitor without means they can be disastrous.

We had known this, naturally, and had planned as well as possible to avoid the dangerous attractions and luxuries.

The best roads

But necessities can be equally crippling; hamburgers are 35 cents (2s. 6d.); Coca-Colas, milk and telephone calls around a shilling each; cinema prices - a flat rate for any seat, varying from cinema to cinema - range from 7s. to 17s. 6d.

Hence, considerable strength of will is necessary. Once in Chicago we paid £2 to park the cars for just over half a day.

The roads are very good - probably none better, particularly in the facility of driving to within a couple of blocks of the centre of a city like Chicago on an eight-lane expressway at speeds of 50 or 60 m.p.h.

Intersections are fascinating. It is not unusual for a connecting road to pass over two similar roads and under a third as it takes you from, say, northbound to eastbound; the special layouts are bewilderingly complicated, and the patterns formed can be surprisingly beautiful.

The roads are good - but we had our first accident here.

There was a smooth concrete road with a hard three-inch edge and soft shoulders; one rear wheel, striving to remount the road, eventually did so in too much of a rush and the car waltzed gracefully away across the rain-soaked surface.

Sitting at the steering wheel I had time to note gratefully the absence of oncoming traffic as the skid developed into a parabola with the rear of the car leading.

Car on side

"She won't go over," I thought … bump … "Yes, she will."

And there we were, the car on her side, and the three of us in an undignified bundle covered in note-books, maps and
Up came the three from the other car, the doctor ready to give his services, which fortunately were not needed.

The car was righted quite easily and proved to be unharmed except for a tear in the canvas roof.

One American who helped us to do the job said "Well, if you wanted to damage this truck you would have to drive it over Grand Canyon."

Park showers

Camping in the States is highly organised. There are national parks, state parks, even county parks.

They have tables and water taps, and many have full toilet facilities, hot water and showers, and shops.

This luxury is reflected in the habits of the campers. It is normal to take along virtually a whole kitchen - extensive cooking equipment, refrigerators, full cutlery and accessories, comfortable folding chairs, rugs … and portable television sets.

We felt like amateurs by comparison, but we managed - and we did appreciate the showers.

The Americans, they say, are amongst the most hospitable of people and we certainly found it true

Accommodation has been varied. In New Orleans we spent one night, by invitation - on the floor of a university laboratory, and the subsequent one being rounded up in one and twos by the vigilant Campus Cops, and shepherded into more suitable accommodation.

Later we spent several days in the house of the president of the New Orleans English Speaking Union.

In Dallas we again lived on university land - in a fraternity house.

These houses are in addition to the hall of residence provided by the university and are owned and run by nationwide student societies.

We moved on to Canada where our mission in the southeast is to deliver greetings letters from Alderman Hugh Jenkins, last year's Lord Mayor of Bristol.

Several Bristols

There are several towns called Bristol on which we call.

We had an amazing telephone conversation from Stratford, Ontario, to Toronto.

We told the city hall secretary we wished to deliver a letter from the Lord Mayor of Bristol.

She said "Would you like to speak to him?"

For there, standing right beside her, was Alderman Charles Smith, this year's Lord Mayor.

We did not know that he was visiting the city of his birth.

So we hurried to Toronto to meet him. That night he was attending an official banquet given by the mayor of the city. But the next day he found time to meet us.

We met at the Canadian national exhibition, where the lord mayor was the guest of the Exhibitions committee. And in the party of the premier of Ontario, who officially opened the exhibition.

This is claimed as the oldest national exhibition in the world and is in its 83rd year.

Sword bearer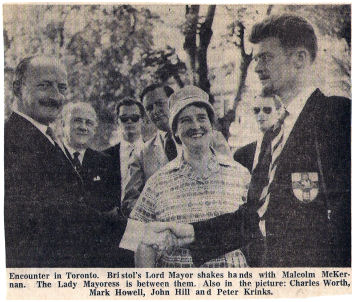 With Alderman Smith was his wife and Mr. John Hill, president of the Incorporated Chamber of Commerce and Shipping of Bristol; Alderman Charles Worth, chairman of the Port of Bristol Authority; and Sq. Ldr. J. L. Purchase, the City sword bearer.
The party was carrying out at high level, the kind of diplomacy that we, in our small way, are attempting.
Actually Canada seems to be full of Bristolians. In Windsor we met again the girl who had been lady president of the Bristol union a couple of years ago, and who is now doing social work out here.
And Toronto seemed full of our friends, many of whom had come over for the summer vacation with the Canada Club from the university.
So we had several previews of the type of encounter we must expect on our return to Bristol - the questions, answers, explanations, stories which will doubtless be repeated over and over again to satisfy the curiosity of friends and relatives.